Asylum & Deportation – 33 Years Asylum
Gahagan Law Firm successfully reopens removal proceeding leading to lawful permanent resident status. In 1985 Mr. W fled to America after a warlord led a successful coup in his country and began killing all of the lawyers and
Read More...
politicians. Mr. W's father was a lawyer and he was murdered; and Mr. W was also on the kill list. After legally entering the United States, Mr. W discovered that he had been ordered deported in absentia by an Immigration Judge at the Atlanta Immigration Court without Mr. W ever receiving notice that he had been placed into removal proceedings and without giving Mr. W the ability to defend himself. In 2012, Mr. W hired Michael W. Gahagan at Gahagan Law Firm, LLC, The Immigration Law Firm of New Orleans to defend him from deportation. Mr. Gahagan successfully reopened Mr. W's removal proceedings; and Mr. Gahagan successfully represented Mr. W during his removal proceedings. In 2018, at the New Orleans Immigration Court, Mr. W was granted Lawful Permanent Resident status in the United States. After 33 years of going through the asylum and deportation process, Mr. W.'s nightmare is finally over and he will be staying in America with his loving wife, his two children and his beautiful grandchildren. Mr. W's eyesight has faded in those 33 years, but his will to live free in America never did. Congratulations Mr. W!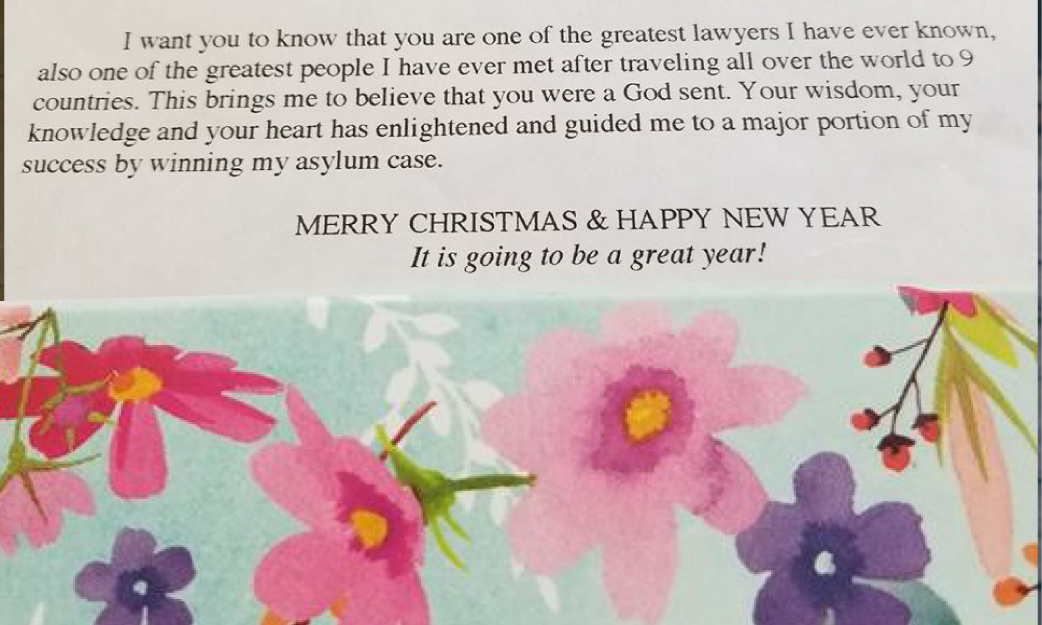 Asylum From Religious Persecution – Iran Asylum
Gahagan Law Firm wins unlawful delay suit against USCIS, one week after filing. Ms. Z entered the United States legally in early 2015 and applied for asylum based on religious persecution.
Read More...
Ms. Z converted to Christianity in her country of birth, and she faced certain arrest, torture and death if she were forced to return back to her country of birth. Ms. Z hired Michael W. Gahagan at Gahagan Law Firm, The Immigration Law Firm of New Orleans to represent her at her asylum interview at the USCIS New Orleans asylum office; and Ms. Z was interviewed in the summer of 2015. In 2018, after waiting 3-1/2 years for USCIS to adjudicate her asylum application, Ms. Z retained Mr. Gahagan to sue USCIS for unlawful delay in violation of the Administrative Procedure Act. One week after Mr. Gahagan filed suit against USCIS in the Eastern District of Louisiana, and USCIS received service of process, Gahagan Law Firm received an approval notice in the mail; and Ms. Z was granted asylum based on religious persecution. Congratulations Ms. Z; and welcome to America!
Asylum From Racial Persecution Asylum
Mr. M, his parents and others in his country were constantly being discriminated against, beaten and wrongfully arrested simply because of their race.
Read More...
After legally entering the United States in 2012, Mr. M applied for asylum and was referred to the New Orleans Immigration Court for removal proceedings. Mr. M hired Michael W. Gahagan at Gahagan Law Firm, The Immigration Law Firm of New Orleans in 2016 to represent him in Immigration Court with his request for asylum. Mr. Gahagan successfully represented Mr. M in the New Orleans Immigration Court, and in 2018 Mr. M was granted asylum. Mr. M is happy that he will be allowed to remain in the country that he loves, he will continue to be able to teach wrestling to his students, and he will never be forced to return to a country that discriminates against, beats, arrests, and kills people simply because of their ethnicity. Congratulations Mr. M, and welcome to America! I'm very proud of you. Michael W. Gahagan